Step-By-Step Drainage Analysis Procedure
Last Updated: 22 October 2013 For: OptiSurface Designer V1.4 and higher


This article takes you step by step through the Drainage Analysis procedure in OptiSurface Designer V1.4.5 or higher.
1. Start OptiSurface Designer (OSD).
2. Open the file to be analyzed.
File > Open > navigate and select the osd file.
3. Start Drainage Analysis.
Tools > Drainage Analysis
The Drainage Analysis Window will prompt as shown below.
4. Modify and add parameters for analysis.
a. Select desired surface.
Tick 'Existing Surface to calculate using Existing Topography.
Tick 'Proposed Surface' to calculate using Proposed Topography.
b. Calculation Grid Spacing - a good start is 20, lower spacing will take more time to calculate.
For this example, 10 ft was used and calculation time was about 5 secs. This may take more time for larger fields.
5. Add parameters for Furrows and Beds.
Tick the box and add values for furrow / bed height.
Click the 'Pick' button and draw the direction of the furrows on the field.
Otherwise, untick the box if the field has no furrows or beds.
This example shows Drainage Analysis using Existing Surface with and without furrows and Proposed Surface after designing the field using OptiSurface Designer v1.4.5.
Drainage Analysis on Existing Topography without Furrows
Ponding Map
The result shows ponds in the low areas of the field. Important figures are shown in the Drainage Analysis Summary located at the lower left corner of the user interface. We have included the Summary in the Map Window as shown below.



Catchment Map on top of Existing Topography
The result show water flow across the field and how it makes tributaries.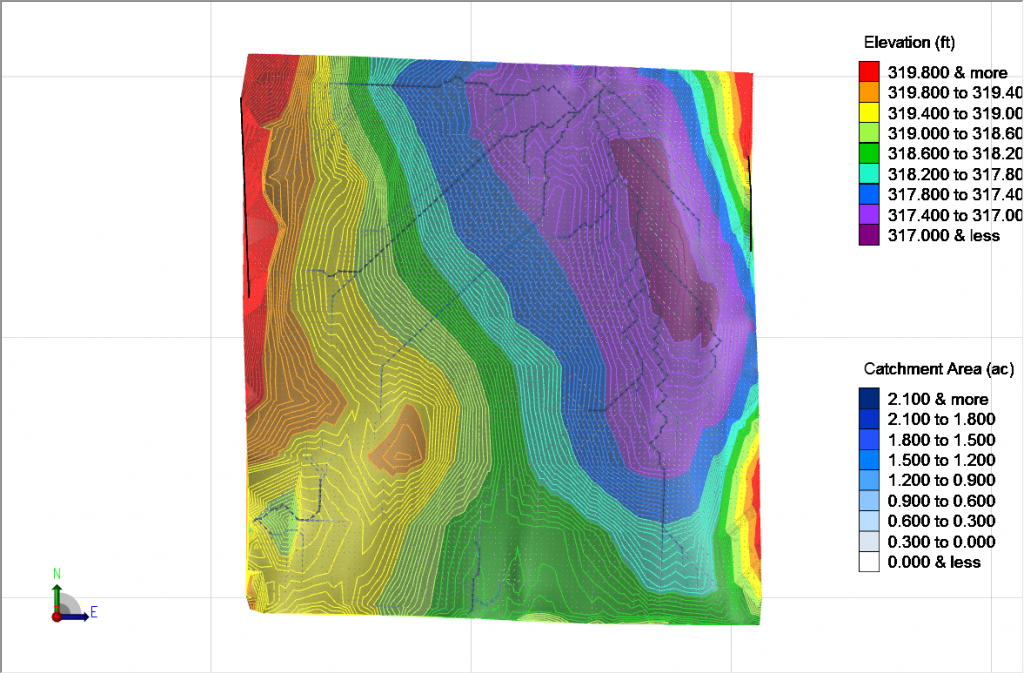 Drainage Analysis on Existing Topography with Furrows (0.5 ft high)
Ponding Map
The results changed significantly having more ponded areas because the furrows are restricting cross flows. The summary shows more ponded areas and volume of water.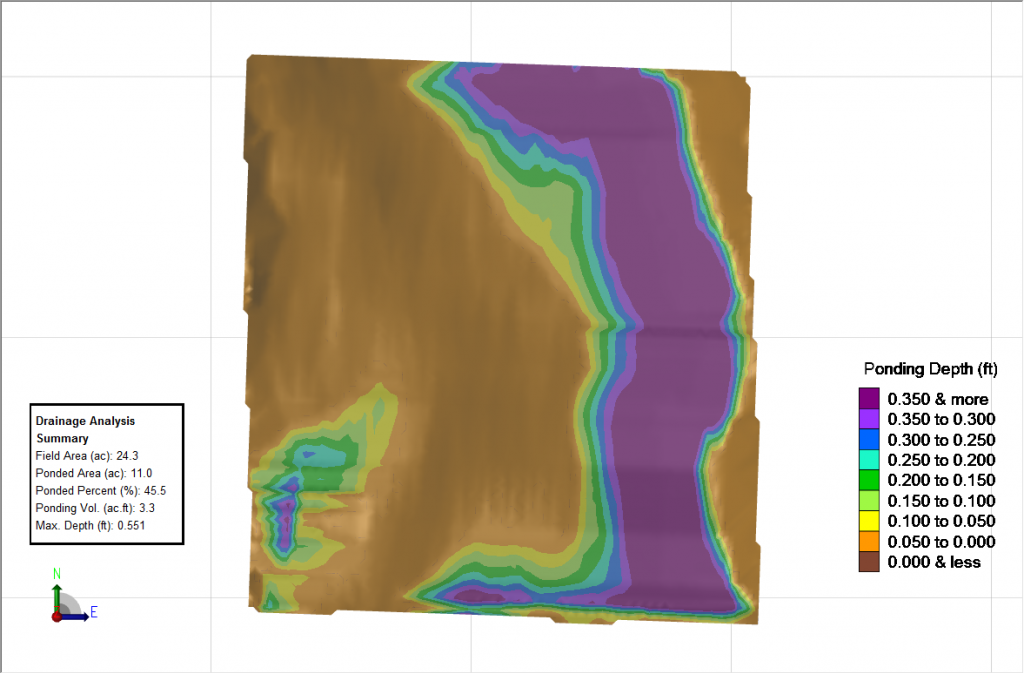 Catchment Map on top of Existing Topography
Water flow has changed and follows the direction of the furrows but eventually tops over the furrows at the low lying areas.



Using OptiSurface Designer, slopes are defined and subzones are created to make the Proposed Topography.
The result had no ponding issues and water flows along the direction of the furrows and eventually exiting a ditch.
Proposed Topography

Ponding Map

Catchment Map